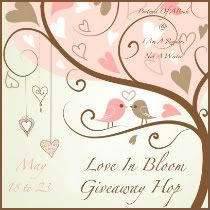 Ah, love and spring...And a new giveaway!
The Giveaway:
The winner can take their pick of one of the following happy Contemporary YA romances:
How to Enter:
Enter the giveaway using Rafflecopter below. Hit the green "Do It" buttons, follow the prompts, and hit the green enter buttons when you're done. (You may have to log in using Facebook to do this). There will be one winner (selected by Rafflecopter). I will contact the winner via email. This contest is open to international entrants.
What Else?
This week, I'm also giving away Drink, Slay, Love by Sarah Beth Durst, enter to win HERE.
a Rafflecopter giveaway