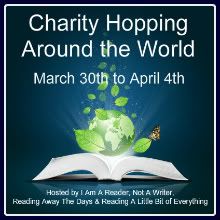 This was a hard blog/hop to prepare for! There are so many things I care about and there are so many wonderful charities out there. However, in light of my recent completion of my cyberpunk, I chose to go with a charity that advocates wildlife conservation. My choice for this giveaway/hop is
The Wildlife Conservation Network
. This is a smaller group that hasn't been around for very long (since 2002); but I like where it has gone so far and I think it has a lot of potential. One of the reasons I chose this charity is because it's not as well known as say...the World Wildlife Fund; thus, it has far fewer contributions on a yearly basis. Another thing I like about this organization is its Mission:
Founded in 2002, Wildlife Conservation Network (WCN) is dedicated to protecting endangered species and preserving their natural habitats. We support innovative strategies for people and wildlife to co-exist and thrive. We partner with independent, community-based conservationists around the world and provide them with the capital and tools they need to develop solutions for human-wildlife coexistence. WCN's conservationists actively engage local people as effective stewards of their environment and work in a culturally-respectful manner to ensure that conservation skills and values will be passed on to future generations.
Anybody get warm fuzzies at the prospect of an organization that focuses on
co-existence
? I like that. Because while I like the environment and all the wildlife, I also understand that people tend to put themselves first. This organization understands that too! I'm also a fan of community based initiatives. Getting down to the level of the local people, teaching them stewardship and not undermining their cultural values is a huge aspect of advocacy. Plus, I like the idea of passing it along to the kids!
To learn more, check it out in
Charity Navigator
.
OKAY, now for the giveaway! In honor of the awesome work this charity is doing to help preserve certain endangered species, I'm giving away books featuring endangered species! The winner can chose one of the following:
Tigers: Any one book from
The Tiger Saga
by Colleen Houck.
Wolves: Any one book from the
Nightshade series
by Andrea Cremer.
Polar Bears:
Ice
by Sarah Beth Durst.
Mute Swans:
Princess of the Wild Swans
by Diane Zahler or
The Swan Maiden
by Jules Watson.
TO ENTER THE GIVEAWAY:
Enter the giveaway using Rafflecopter. This hop runs from 3/30/12 to 4/4/12. Hit the green "Do It" buttons, follow the prompts, and hit the green enter buttons when you're done. (You may have to log in using Facebook to do this). There will be one winner (selected by Rafflecopter). I will contact the winner asking for their choice. This contest is open to international entrants.
a Rafflecopter giveaway