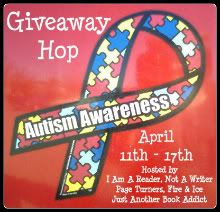 This giveaway/hop is to help bring Autism Awareness to the readers at large. I have a couple of friends as well as some friends who have family with Autism, so it's a close thing to me. Even I didn't entirely understand what it was until I did some research. This morning, I wrote up a nice big informative blog post and was quite proud of myself. Then I tried editing it, somehow managed to delete it, and then didn't hit the undo button in time for the auto-save to make the deletion permanent. GRRR... Unfortunately, I don't have enough time to re-post what I had, so I have to do just do links. :( Sorry guys. If any of you would like to share information or stories, please feel free to leave a post!
These are my top sites for information and assistance:
Autism Fact Sheet
Wikipedia
Autism Speaks
Autism Society
THE GIVEAWAY:
The winner can select any one of the following novels:
TO ENTER THE GIVEAWAY:
Enter the giveaway using Rafflecopter. This hop runs from 4/11/12 to 4/17/12. Hit the green "Do It" buttons, follow the prompts, and hit the green enter buttons when you're done. (You may have to log in using Facebook to do this). There will be one winner (selected by Rafflecopter). I will contact the winner asking for their choice. This contest is open to international entrants.
a Rafflecopter giveaway